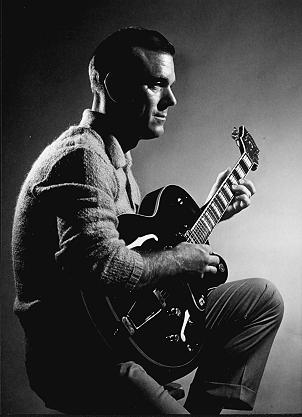 Instruments: Guitar, bass guitar, mandolin, ukulele, banjo
Self-taught and skilled on several instruments, Ray Quarles Edenton, following a career as a touring musician, has played in Nashville studios since 1953, until his retirement in 1991.

In one particularly busy stretch, Edenton did 22 sessions in 5 days. He could play many different instruments and often did, but rhythm guitar was his specialty. By his estimate, he played somewhere around 15,000 sessions, although he has no way to get an accurate count.

Ray was born into a musical family on November 3, 1926, in Mineral, Virginia. Ray's two brothers played guitar and fiddle and his mother played piano. Ray's first instrument was a "waiter", a metal serving tray on which he rapped his knuckles in time to the music. He then learned fiddle and from there went to a 4 string tenor banjo tuned to guitar pitch. He started working local square dances for 25 cents a night.

In 1946, after a stint in the army, Ray joined the Rodeo Rangers at WMBG Radio in Richmond. Later Ray and two of the other Rodeo Rangers split from the group and formed a trio. This trio went to work for Bob Nicholson in an open air show (drive-in) working along the east coast and did a radio show in Fredricksburg, Virginia.

In 1948, the trio went to work for Sleepy McDaniels at WFMD in Fredrick, Maryland. Later Ray left the trio and went to work for Joe Maphis and The Corn Crackers on the Old Dominion Barn Dance, WRVA, Richmond, Virginia. At this time, he was playing bass and singing in a country trio.

In 1949 Ray went to The Mid Day Merry Go Round Radio show on WNOX, Knoxville, Tennessee, working shows with The Carter Family, Chet Atkins, Homer and Jethro, Archie Campbell, Bill Carlisle, Carl Smith and Don Gibson. Not long after that Ray was sidelined with tuberculosis and spent 28 months in the hospital.

Ray's first record sessions was in 1949, in Morristown, Tennessee, working on Red Kirk's recording of "Lovesick Blues" for Mercury.

July 1952, Ray came to Nashville and ran into Sleepy McDaniels, who helped him land a job as guitarist and front man with blackface comics Jamup and Honey.

In 1953, Chet Atkins started using Ray on demo sessions for Acuff Rose Music. Ray began playing on the Grand Ole Opry on a regular basis, yet he continued working on the road. He was a member of the original touring bands of both Webb Pierce and Marty Robbins and worked with other road bands such as: Hank Williams, Ray Price, Cowboy Copas, George Morgan, and many others.

Ray, playing bass and singing in a trio, worked in the band for WSIX TV's "Home Folks Show" in Nashville from 1956 to 1957. He also played bass and rhythm guitar on a radio show "Two Guitars" with Chet and Jerry Byrd.

Country music gradually changed where drums were acceptable in the studios. Ray's drum-like rhythm guitar was no longer required, but he had begun working with a new tuning: the high third. It was Ray's high third played in tandem with Don Everly on the Everly Brother's Cadence recording of "Bye, Bye Love" and "Wake Up Little Suzie", that would bring Ray into his own and give him a reputation that held trade upon for years to come.

By the early 60's Ray was experimenting with yet another tuning, known as the "high string". In this tuning, four strings are tuned an octave higher instead of just one as in the high third tuning. The high string tuning was usually used in conjunction with another guitar to give a wide tonal spread on the rhythm sound. This not only enhanced the rhythm, but also contrasted with the lead instruments.

In the next few years there came an entirely different style of rhythm playing that brought Ray back to the electric guitar, known as "chink rhythm". For "chink rhythm" Ray played only one electric guitar, which he got from Chet Atkins: an experimental cutaway Gretsch.

Around 1966, Ray did a session with jazz vibraphonist, Gary Burton. This became one of the first fusions between country, bluegrass, and jazz and resulted in the "Tennessee Firebird" album. The album featured not only Ray, but Chet Atkins, The Osborne Brothers, and Buddy Emmons as well.

While working on a 1960's session for Johnny Cash, Ray and saxophonist Boots Randolph started playing hoe-downs and were heard by Columbia producer, Don Law. Law asked Edenton to do a solo work and "Ray Edenton Plays Upton Country Music" was cut with Randolph, pianist Floyd Cramer, guitarists Grady Martin and Harold Bradley, harmonicist Charlie McCoy, bassist Bob Moore, and drummer Buddy Harmon.

In the '70's the trend returned to flat top, 12 string, and high string and Ray did thousands of sessions on these instruments.

Ray has done many jingles, movie soundtracks, and TV shows, such as "Austin City Limits" "Nashville On The Road", and "The Jimmy Dean Show" with Chet Atkins, Boots Randolph, and Floyd Cramer at Carnegie Hall. He has recorded with practically all the artists from the Grand Ole Opry from 1953 until 1990. He worked with other artists such as: Brenda Lee, Patsy Cline, Johnny Cash, Conway Twitty, Merle Haggard, Buck Owens, The Everly Brothers, and pop artists such as: Tommy Sands, The Beach Boys, Sammy Davis, Jr., Perry Como, Andy Williams, Julie Andrews, Brook Benton, Rosemary Clooney, Pat Boone, Don McLean, Patti Page, Burl Ives, Henry Mancini, Connie Francis, Elvis Presley, Johnny Ray, Ann Margaret, and Neil Young.

Ray is a member of The Studio musicians Hall of Fame in RCA Studio B. He received NARAS (National Association of Recording Arts and Sciences) awards for the most valuable player for rhythm guitar in 1977, 1978, and 1979, and was a member of the Superpicker Band in 1975, 1976, 1977, 1978, and 1979. Ray received these awards each year they were given.

Since retiring in 1991, Ray lives and fishes on Old Hickory Lake with his wife, Polly, and airedale, Luther.
Tennessean Article on Ray Edenton by James Orr

Additional Photos
| | |
| --- | --- |
| | Bob Moore, Julie Andrews, and Ray Edenton |


26 NOV 2007

LEGENDARY BASSIST BOB MOORE TO BE INDUCTED INTO THE NASHVILLE MUSICIANS HALL OF FAME
Click here for full press release at:
Musicians Hall of Fame amd Museum
.First Annual Induction Ceremony held by the Musicians Hall of Fame to be held at the Schermerhorn Symphony Hall on November 26, 2007. Inductees include The NASHVILLE A-TEAM, (Bob Moore, Buddy Harman, Hank Garland, Pig Robbins, Grady Martin, Ray Edenton, Boots, etc.) The Memphis Boys (Reggie Young, Bobby Wood, Gene Chrisman etc.) The BLUE MOON BOYS (Scotty Moore & DJ Fontana) The Los Angeles Wrecking Crew, The Funk Brothers. Program includes live appearences by Vince Gill, Amy Grant, Peter Frampton and many MANY others. (Yes, Garth Brooks will be performing Live and in Person) This is a once in a lifetime, NOT-TO-BE-MISSED event! Tickets $50 are available at: www.nashvillesymphony.org