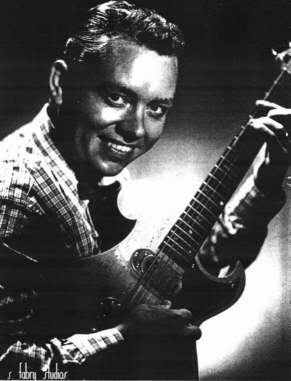 The South Carolina family had seemingly come all the way to Nashville for nothing. It was 1945, and an Opry star had invited their guitar-mad, 15-year-old son to join his band on the Ryman's hallowed stage. Now that star Paul Howard, leader of The Arkansas Cotton Pickens, could not remember the invitation he'd extended - in person in Spartanburg, South Carolina and then by phone-to young Walter Louis "Hank" Garland. His parents, skeptical at the invitations, had nonetheless brought their son to Nashville. Only when Hank's father reminded Howard of the phone calls did he remember: On tour, Howard had stopped at Alexander's Music Store in Spartanburg where Hank was buying a guitar string. The clerks praised the teenager's playing and handed him a guitar. After hearing him play, Howard offered him a job on the spot.
That night on the Opry, young Hank Garland's intense electric guitar boogie instrumental blew away Howard, his musicians and the Opry audience. The bandleader made good on his job offer until the Musicians' Union discovered Garland s age. He had to be 16 to qualify for working papers. Hank went back, dejected, to Cowpens, South Carolina, where he'd been born on November 11, 1930. He'd grown up influenced deeply by Maybelle Carter, and became good enough to play in Shorty Painter's country band in nearby Spartanburg. That's what he'd been doing when he met Howard.
True to his word, Howard phoned Hank on November 11, 1946, to summon him back to Nashville. Chet Atkins, himself new to the Opry, remembered the teenager as overeager, playing tough and focusing on fast and flashy licks. He made his first recordings with Howard's band for Columbia, playing in a twin guitar ensemble with the gifted, underrated Nashville guitarist Robert "Jabbo" Arrington. After a few months with Howard, Garland joined Cowboy Copas' excellent band for two years.
In 1949, Paul Cohen and his assistant, Owen Bradley, began using Garland on Decca recording sessions, and Cohen signed him to Decca as a singer-guitarist. The singing was a mistake. His vocals were mediocre, his instrumentals far better. In 1949 he recorded an original instrumental "Sugarfoot Rag." Red Foley recorded it with lyrics late that .year, Garland again playing the guitar solo and receiving billing. When the record became a huge hit for Foley, it earned Garland recognition and a nickname. Though Garland's own Decca recordings didn't sell, they included outstanding instrumentals.
Still obsessed with jazz, Garland listened to Belgian jazz master Django Reinhardt for hours. He also spent much of the early 50's in Eddy Arnold's band. He took advantage of Arnold's trips to New York City for recording and TV appearances to hear jazz in clubs and to take lessons from jazz guitar virtuoso Barry Galbraith. After leaving Arnold in the mid-50's, Hank worked with pop and jazz units around Nashville, but spent mast of his time in the growing studio scene.
Becoming a fixture there, he worked with Harold Bradley and Grady Martin on hits by Jim Reeves, Justin Tubb and many other. The three pickers exemplified the versatility of early Nashville musicians, able to play the right licks on anyone's records. By 1955 Hank and old friend Billy Byrd had designed a guitar for Gibson. He and Byrd had been approached by Gibson executive Clarence Havenga, soliciting ideas for a new hollowbody electric guitar. The "Byrdland," a contraction of both names, was the result. Garland was also a fixture on Nashville-produced rock 'n' roll records, particularly Everly Brothers classics such as "Bye Bye Love," as well as on country hits like Don Gibson's "Sea of Heartbreak." Occasionally, he got credit, such as Patti Page's gentle remark to "Go, Hank!" when he played a dazzling solo on her Nashville recording of 'Just Because." Like all studio musicians in those years, Garland's work was largely anonymous.
His reputation as a quick-tempered, obsessive musician grew. Offstage, Garland continued to play locally, his main hangout being Nashville's Carousel Club on Printer's Alley where he preferred to play jazz. So did other regulars like Chet Atkins, drummer Buddy Harman, bassist Bob Moore, Boots Randolph and Floyd Cramer. Hank once blew away a group of musicians from Stan Kenton's progressive jazz orchestra who'd visited the Carousel.
In 1960 Garland entered a Nashville studio with Gary Burton, jazz bassist Joe Benjamin and drummer Joe Morello (another alumnus of Paul Howard's band) to record Jazz Winds from a New Direction. The album allowed Hank to spread his wings as a jazz guitarist and though Don Law received credit as producer, Grady Martin actually produced the session. The LP received widespread acclaim, exciting jazz and country guitar fans alike.
Though he appeared onstage with Presley at his 1961 "Farewell Concert" in Hawaii, day to day country session work was still Garland's stock in trade. The grind however, was getting to him, as were domestic problems and increased dependence on the bottle. On the morning of September 8,1961, he'd quarreled bitterly with wife Evelyn, who took their two children to a Nashville motel until things calmed down. Arriving home, Garland found them gone and assumed she'd taken the kids back to her native Milwaukee and set out after her. Speeding north, around 5:00 P.M., on Route 41 north of Springfield, Tennessee, his station wagon overturned, throwing Hank from the vehicle. He spent weeks in a coma.
Finally, when he awoke, Grady Martin brought him a guitar. A few minutes later, Martin emerged in tears. Hank could not maintain his coordination. After he recovered, his aggressive personality changed; he could play well for only brief periods before losing his train of musical thought, a consequence of the injury. His attempts to resume session work faded. For the next year, as financial problems closed in on the Garlands, his friends on the A-Team signed his name on Musicians' Union cards to guarantee the family had something to live on. Given the scope of his musical contributions, it's doubtful the deception upset even the record companies. The family moved to Milwaukee, where Evelyn died in a 1963 auto accident. After years of inactivity, Garland appeared at an Opry old-timers show in 1975, where he managed to pick out "Sugarfoot Rag."
Today, still revered for his past work, Hank Garland resides quietly in South Carolina with his sister and her husband. In Nashville, the younger generation of studio musicians has barely heard of him, but the many members of A-Teams past as well as the stars he backed, still remember him as one of the greatest. (Text for this article was obtained from The Journal and was written by Rich Kienzle)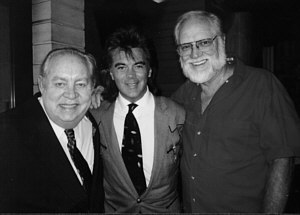 Hank Garland, Marty Stuart, and Bob Moore


26 NOV 2007

LEGENDARY BASSIST BOB MOORE TO BE INDUCTED INTO THE NASHVILLE MUSICIANS HALL OF FAME
Click here for full press release at:
Musicians Hall of Fame amd Museum
.First Annual Induction Ceremony held by the Musicians Hall of Fame to be held at the Schermerhorn Symphony Hall on November 26, 2007. Inductees include The NASHVILLE A-TEAM, (Bob Moore, Buddy Harman, Hank Garland, Pig Robbins, Grady Martin, Ray Edenton, Boots, etc.) The Memphis Boys (Reggie Young, Bobby Wood, Gene Chrisman etc.) The BLUE MOON BOYS (Scotty Moore & DJ Fontana) The Los Angeles Wrecking Crew, The Funk Brothers. Program includes live appearences by Vince Gill, Amy Grant, Peter Frampton and many MANY others. (Yes, Garth Brooks will be performing Live and in Person) This is a once in a lifetime, NOT-TO-BE-MISSED event! Tickets $50 are available at: www.nashvillesymphony.org